Chapter 7
The Suit of Poetry
THE EXPRESSION OF ETERNAL TRUTH.
TO SPEAK FROM PROPHETIC INSPIRATION.
THE PATH OF INDIVIDUALITY & REVELATION.
One power alone makes a poet — Imagination the divine vision.
—Characteristics of the Suit
—The Number Cards
1-Inspiration
2-Individuality
3-Creativity
4-Harmony
5-Strife
6-Cooperation
7-Boldness
8-Swiftness
9-Powers
10-Prophecy
Angel of Poetry
Child of Poetry
Woman of Poetry
Man of Poetry
The Creative Process Suit of Poetry represents the intuitive, poetic, and prophetic uses of divine imagination. It corresponds to the Suit of Wands in the traditional Tarot. Its symbol is the scroll, a roll of truth — from its medieval meaning of 'a piece cut off and used as a record'. Urthona, the Zoa of Imagination, presides over this suit, whose element is Earth. Poetry is associated with commitment and truth, the sense of hearing, and verbal precision such as in writing and religion. The cards in this suit portray characteristics and qualities relating to imagination and eternal truth, which is prophecy.
When pertaining to works of art, Poetry specifically includes the study and practice of such disciplines as literature, oratory, theater arts, and so forth. It also includes psychology ('study of the soul') and mythology ('study of spoken fables'), and activities related to its element, such as agriculture ('devoutly working the fields'). Anything related to spiritual causes is part of this suit. Religion, ritual (including magic), and war ('confusion') are part of Poetry, although as "degraded" or fallen forms.
Basically, the Suit of Poetry applies imagination to one's spiritual vision, and attempts to reveal man's inner nature. The true poet-writer-prophet-spiritual warrior creates forms in the external world using the imagination, whereas the "degraded" poet uses created forms to suppress imagination. In this sense, "poetry fetter'd, fetters the human race!" and "he who will not defend truth, may be compelld to defend a lie."
Poetry attempts to communicate what cannot be fully known — the essence of the soul. But visions of the soul seen through the imagination can be individually expressed, and thus poets become prophets — spiritual seers whose views of eternity provide the truths we need to know. For those in whom the spirit is active and alive, poetry releases individuality and energy — which is to say that poetry is also rebellious and spirited.
the grandest poetry is immoral...the poet is independent & wicked...
The borders of all the suit cards depict grapevines symbolizing the vitality of the imagination — which like its element, is eternal and ever fruitful. The inner edges of the card borders are green to symbolize the living earth. Each card has a symbol window at the bottom whose faint design of biblical words suggests the faith in imagination that characterizes this suit. Each card also contains a thematic quote from Blake that extends its meaning.
For visual and symbolic continuity, the ten Number Cards in the Suit of Poetry are all from Blake's watercolor designs to Night Thoughts by Edward Young. This long narrative poem, popular in Blake's time, is now forgotten except for Blake's illustrations. Young described his poem as "Truths, which, at Church, you might have heard in prose." Affectedly speculating on mortality, it admonishes man to live morally and rationally — a theme that Blake often rectified in his illustrations.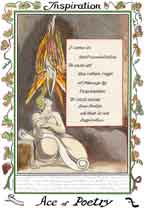 We see a six-winged cherub descending to touch the poet's lips as he writes upon a scroll draped over his right leg. A manifestation of spiritual power, the cherub represents the divine inspiration as a sexual metaphor. Blake says:
In Beulah the female lets down her beautiful tabernacle, which the male enters magnificent between her cherubim, and becomes one with her.
The "beautiful tabernacle" refers to female genitalia, the "cherubim" are the labia, while Beulah is the realm of creativity and sexuality. This card thus symbolizes the reception of Inspiration as spiritual cunnilingus, or communicating with the sacred. In Young's poem, this image illustrates a line alluding to the poetic nature of the Bible, which is also appropriate because Blake's inspiration often came from it — "The whole Bible is filld with imagination & vision from end to end & not with moral virtues."
Blake's lines in the window declare the universal poet's mission, which is to create Poetry by letting spirit in (inspiration), renouncing the "rotten rags" of rules and rationality, and sacrificing one's ego (self-annihilation). "Faith in the Saviour" does not mean religious belief in God; it means belief in your divine self, in your own imagination as your savior. Compare this image with the Angel of Poetry.
This card is about receiving an inner, intimate message of truth — which is the definition of imagination. Prophecy describes what is eternally true, and it too is imagination. In this card, Blake links sexuality, sacredness, and imagination in the same action.
In the creative process, this is when you are first seduced by your muse, whose kiss of spirit makes you let go of everything that you thought you knew, in service to the immediacy of divine revelation.
KEYWORDS: THE KISS OF INSPIRATION • INTIMATE CONTACT WITH HIGHER CONSCIOUSNESS • BURST OF INTUITION • SENSE OF INNER GUIDANCE • DESIRE FOR SPIRITUAL GROWTH • SEXUALITY AS A METAPHOR FOR IMAGINATION •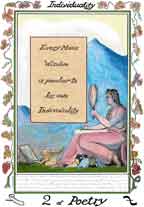 This image illustrates Young's lines comparing the "mortal man" (shown holding a hand-mirror and writing on his lap) with the "man immortal" (the angel at his right foot) and the "world's dark shades" (the group of spirits below his knees). The ethereal blue mountain establishes that spiritual aspiration is the background of this card. The seated man sees his material self in Blake's "vegetable glass of nature," and presumably writes what he see. But the man's face is vapid, and he wears classical garments that symbolize secular, materialistic consciousness. He embodies Young's point that men can only "make their comment" on "what they find at home" — their pallid earth-bound vision. The huddled "dark shades" represent the self-enclosed society that urges people to stay focused on their egos.
To see and express one's deeper individuality requires looking beyond the temporal self into the eternal self. If the man in this card puts aside his ego-mirror he will see his immortal self reflected in the square mirror at his feet, as well as a reflection of the infinite sky overhead. His true individuality is his divine reflection, the angelic self. The angel bows not to the mirror but to the divine spirit it reflects. Blake asserts that "general forms have their vitality in particulars: & every particular is a man; a divine member of the divine Jesus." Thus, each man's individuality or identity is his divine portion, and his path to knowledge, because "all knowledge is particular."
"Every man's wisdom" (from the window quote) defines his individuality, and empowers his imagination to express itself uniquely. In his quote, Blake's own "individiality" is wryly shown by his misspelling the word.
This card is about avoiding worldly confusion and not being influenced by selfish concerns. You need to discern into which mirror you look — the vegetable glass of earthly issues, or the mirror of imagination that reflects the eternal truth. This card suggests that every issue makes a surface impression behind which lies an eternal reality. True individuality comes from seeing both one's outer and inner personalities, discerning the difference and then acting accordingly.
In the creative process, this is when you look into yourself to see the underlying content and meaning of your project. This is the choice of whether to express your ego-self or your true self, which is a particularized expression of immortal truth. The more you are your (true) self, the more universal your message.
KEYWORDS: VIEWING THINGS IN YOUR OWN WAY • AWARENESS OF INTUITION AND ORACLES • HOLISTIC COMPREHENSION • BEING MINDFUL OF YOUR TALENTS • ENLIGHTENED SELF-EXPRESSION • ABILITY TO CHOOSE BETWEEN ALTERNATIVES •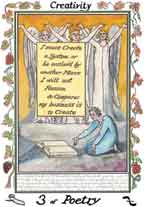 We see the poet kneeling in front of an open book, his arms forward in a gesture of both worshipping and welcoming. Three angels with overlapping, outstretched arms stand in the background, celebrating and blessing the occasion. In Young's words, they represent "an imprimatur from above"; that is, a divine permission to proceed. The man is clothed in a simple blue smock, suggesting an unsophisticated or spiritual motive. Except for a few words heading the page, his book is blank — it represents unlimited creative potential, awaiting the words or system of thought to be inscribed on its pages. Being a book rather than a single sheet or scroll suggests a synthesis of many pages, hence of many related ideas and concepts. The book could also represent a completed system, plan, or 'bible' being offered to you for guidance. The triple angels are spiritual messengers and poetic muses; they are also reminiscent of the "triple female tabernacle" mentioned in II—Nature and the Ace of Poetry, suggesting again that creating forms is a reproductive function, connected to the generative forces of life and sexuality.
Blake's window quotation, although stated in the first person, refers to the nature of creativity, which defines the self in the idiom of a highly personalized view of life. It is the inventive outcome of the peculiar individuality of each person, as noted in the previous card.
This card also suggests that you have a strong impulse is to communicate your vision in a traditional way. You have a great deal to say, and you approach your work with deep respect and innate dignity. However, the scope of your vision and the extent of your ambition requires that you plan carefully and proceed with due concern for details. You need to sit down with your work and humbly commune with it to learn the best way to proceed.
In the creative process, this is when you receive the divine fiat to 'make your mark', according to your own vision. You have 'carte blanche' to create your own myth, to determine what is written in the book of life. But be prudent in laying out and planning your project.
KEYWORDS: CREATIVE BLESSINGS AND SUCCESS • CREATIVE OVERVIEW OR PLAN • IMAGINATIVE POETIC VISION • UNLIMITED CREATIVE OPPORTUNITY • SYNTHESIS OF IDEAS • REVELATION OF TRUTH • SPIRITUAL IDEALISM OR UNDERSTANDING •
We see a woman and a bearded old man communing by a river populated with swans and flamingos. In Young's text, the river is "pleasure's sacred stream," which "fosters ev'ry growth of happy life" and brings "refreshment, life, health, reason, joy." It symbolizes the river of life in its rich flow — at which male and female, innocence and experience, beauty and wisdom stand side by side in harmony. The two figures, garbed in simple and unpretentious robes, raise their heads to gaze into a glow from above. This heavenly spotlight indicates they are eternal forms whose heightened awareness enables them to spiritually merge with their environment. They also represent Adam and Eve, returned to the garden in their old age after restoring their own inner harmony.
Their arms and hands are upraised in gestures of gratitude and worship, and the branches of a tree of life hover over their heads. Their long flowing hair suggests that theirs is the felicitous marriage of freedom and knowledge. They stand upon the spiritual bank of the river, with nature represented as the opposite bank, whose flamingos of paradise play by the stream. The surrounding willows (see Woman of Music) are associated with the goddess, and her creativity and intuition. The two swans on the near bank confirm that all the creative energies, both natural and spiritual, are in harmony.
This is a traditional card of marriage, of celebration and thanksgiving for life. It may signify a time of holiday (holy day) during which to ritualize or formally recognize the joy and bounty granted to you. There is a sense of completion at this time, a recognition of things being right, of common effort and shared appreciation, of good energy flowing towards a worthy cause.
In the creative process, this is when you unite elements of concordant feeling by interweaving their strands, forming a new 'one-hearted' or eternal form. All the elements are meshing together, and the work flows easily; now you give thanks.
KEYWORDS: REWARDS OF LIFE • SATISFACTION IN EVERYDAY LIFE • THANKSGIVING AFTER LABOR • COMING TOGETHER IN PROSPERITY • PERFECTED WORK • TRANQUILITY • CEREMONY AND CELEBRATION • CREATIVE CONSOLIDATION •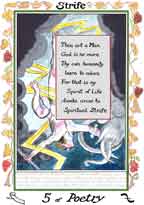 This card depicts the falling angel Lucifer and his "portentous shade," an elephantine creature, in the stormy skies of some "foreign, un-terrestrial sphere" (Young's lines).In Blake's myth, Lucifer ('light-bearer') is the first step away from spirituality; his flaw is pride. Lucifer is a fallen aspect of God within man, which whom we must do spiritual battle. Normally elephants symbolize positive qualities such as intelligence, chastity, and longevity; and in the medieval bestiaries they are emblematic of Christ. However, Blake's creature parodies an elephant to represent a perversion of its qualities, just as Lucifer is a parody of God. Both figures are falling head downward, which in Blake's visual vocabulary signifies spiritual fall. Lucifer's outstretched arms caricature resurrection, especially since he bears weapons in both arms. The figures could be locked in battle among themselves, but more likely they are comrades-in-arms. They represent the spiritual adversaries that man must battle within himself — selfishness and perverseness. The lightning flashes next to Lucifer's body are a visual pun on the meaning of his name, but the illumination they brings are the light of truth. Its celestial fire reveals Lucifer and his bestial alter ego to be aspects of Satan.
In the context of the window quote, the figures represent our own fallen divinity. Man and God are the same; both are divine, both can fall. We must struggle with our inner demons, for that is the "spirit of life." Just as Lucifer fell because of material pride in his own spiritual glory, so can we. Spiritual materialism, or false righteousness, is particularly dangerous for otherwise spiritually oriented people who think their awareness makes them better than others.
This card is about being in conflict with different parts of yourself, possibly creating violent stress or lightning insights, or both. It can mean falling into arguments, being caught in a thicket of ideas, or being surrounded by dark clouds of confusion. It is a wake-up call to seek the light and find the truth of the matter. But you're in for a tumble; and may get scraped.
In the creative process, this is when things are falling apart and looking quite dark. You need to assert your spiritual rights! Prepare to do battle in order to illuminate the truth. Prepare to 'beat down' the opposition using divine ideas, and perhaps inspired parody.
KEYWORDS: FOCUS ON SELF-IMPROVEMENT • TESTING IDEAS THROUGH CONFLICT OR DISAGREEMENT • HEATED EXCHANGE OR TROUBLED RELATIONSHIP • COMPETITION OR LITIGATION • POWER STRUGGLES • CONFRONTING OBSTACLES • QUESTIONING AUTHORITY •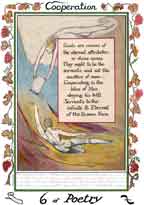 This card depicts an angel offering a book to a naked man vaulting upward through flames. This card represents divine inspiration being handed down by the poetic muse as an act of cooperation with man. His impulsive leap symbolizes the psychic energy and desire needed to propel us upon the flames of creativity into the spirit's realm. (Blake said "Jesus...acted from impulse, not from rules.") The scene metaphorically describes a psychological process, for the man must first believe in the angel (and leap towards it) before the angel can give him its book of inspired knowledge. Without recognition from man, and without man's desire and energy, the divine muse is unable to communicate its message.
This card specifically expresses what archetypal psychologist James Hillman calls personifying, which means giving names and passions to insensate things, making them into psychic presences with real power. Only this way can you perceive their specific qualities, and yield to them the respect they require. The Tarot itself is a classic example of personifying as a psychological tool for societal and self-understanding. Personifying requires imagination and stimulates personal creativity because it makes gods, demons, and the soul not merely poetic allusions but real 'beings' that cooperate with and serve mankind. Blake consistently personified his psychological states, such as the Zoas and myriad other "presences" who were completely real to him, and he established relationships among them all. This ability to cooperate with his personifications is the foundation of his artistic power.
This card exemplifies the psychological interaction between the mind and its personifications. When you recognize the 'eternal attributes' as divine persons, you rise up to meet them, and then the gods can give you their gifts of wisdom and inspiration, via mutual recognition and cooperation. The book in this card could also represent the answer to a question, permission to do something, a gift of any kind, success in court or real estate, and so forth. The act of conscious soaring could also represent actual journeys or imaginative flights near at hand.
This card is about the true artist's ability to mythologize his work, and to open communication with all the gods that inherently inhabit any creative work. Unfortunately, we live in a society that has few gods (although many devils). However, your individual genius enables you to rectify this situation by creating a personal pantheon of personifications. Doing this can open the floodgates of creativity because your gods will cooperate by telling you whatever you need to know.
In the creative process, this is when you cooperate with your 'genius' by having a 'dialogue' with your conceptual material. Your work, too, is a living god, and you must give this god its due by communicating with it. In return, your god can give you its divine 'inside' information.
KEYWORDS: A GIFT FROM ABOVE • SUCCESS THROUGH COOPERATION • ADVANCEMENT TOWARD A GOAL • TEAMWORK BETWEEN MIND AND SPIRIT • CREATIVE JOURNEYS • NEW SENSE OF PURPOSE •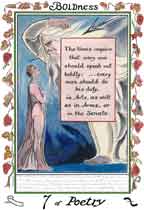 We see two of Young's personifications confronting each other: "Can Joy...talk with threat'ning Death, and not turn pale?" Young, in his poem, thinks not — but Blake's painting clearly disagrees. The figure of Joy, depicted as a statuesque young woman in flowing robes, has the blush of life on her cheeks and her expression is notably calm as she looks Death in the eye without flinching. Boldly, she strides toward him with her right or spiritual foot, and her right hand upon her heart emphasizes her sincerity. Joy is the fearless spirit of life. The figure of Death, by contrast, is angry at her boldness, and towers over her menacingly. His left foot is forward, his right hand points backward, and he threatens her with his arrow of destruction (at upper right). Even knowing that you cannot win, with boldness you can still tell the truth.
This card portrays the need for tenacity and courage against opposition, even when overpowered. In particular, Blake felt that creative artists should boldly raise their voices to resist societal error. In his notebook, Blake wrote a "Public Address" in which he said:
The wretched state of the arts...demands a firm & determinate conduct on the part of artists to resist the contemptible counter arts established by...politicians...
In this situation, you find the willingness to stand up to opposition without backing down. The vine of life, of which you partake, fills you with eternity's strength. Although Death will be the eventual victor, the life-impulse and the boldness of art that you represent and create will never die or be vanquished. This card urges you to face your fears and live heroically.
In the creative process, this is when you find courage in the face of adversity. You can do your duty to life — countering fears and mortality itself — by doing what you love, upholding truth, and encouraging others in the same bold path.
KEYWORDS: COURAGE AGAINST THE ODDS • TAKING A STAND • ENERGETIC CONSTRUCTIVENESS • STUBBORNNESS OF BELIEF • DEFENDING YOURSELF • NEEDING TO TEST YOUR METTLE • SPEAKING YOUR MIND • TELLING THE TRUTH • ACTING WITH INTEGRITY •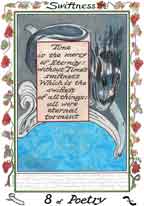 This card illustrates Young's rococo lines:
Boundless creation! what art thou?
...If, on tow'ring wing,
I send [my thought] through the boundless vault of stars;
...tho' rich, what dross their gold to thee...
Rephrased: Philosophical reflection swiftly finds that nothing outshines imagination. This card deals with Blake's ideas about time. His window quotation suggests that we benefit from life's briefness because it makes us cherish life the more. He said "eternity is in love with the productions of time," meaning that life's human and artistic achievements have eternal value. Time for Blake is not an linear progression of measured moments; such a scientific view of time forges a chain of temporal slavery. Viewed with imagination, time becomes protean and indefinite; it can be lengthened and shortened, altogether stopped, and contains eternity in every moment.
Swiftness is a metaphor for the ever-renewing prophetic power of imagination, and its subjective and numinous nature. The figure in the card can be interpreted as Los, the lord of time who is in love with space He is shown 'embracing' his beloved, using his wide-spread scroll of poetry to gather the energy of eternity's wide firmament. "Incessant the falling mind labour'd, organizing itself: ...with ease searching the dire vacuity." The imaginative mind swiftly wings its way through the universe, forging personal meaning out of the void and then strives to communicate its acquired truths.
This card is about also about energy and freedom, and about falling in love: with another person, with your work, with yourself, with life. Marcel Proust defined love as "Space and time measured by the heart." Your mind races with ideas, and with time as a constraint, your energy bursts through space.
In the creative process, this is when you get so carried away by your work that time ceases to exist. You spontaneously become one with eternity; for true creation happens in a moment, and all that is false happens over time.
KEYWORDS: MUCH ENERGY SUDDENLY AVAILABLE FOR USE • ACTIVITIES AND ENERGIES SPEEDING UP • EXPERIENCING TIME-WARPS AND TIMELY COINCIDENCES • INFATUATION AND FALLING IN LOVE • FAST THINKING AND COMMUNICATION • BURST OF CREATIVE ENERGY • FINDING A NEW SENSE OF VALUES •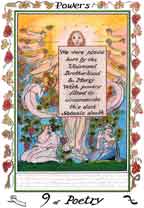 The 9 of Poetry depicts Jesus as the "great vine," flanked by an embracing couple, a mother with two children, and various surrounding angels. This visually renders Jesus's biblical words: "I am the vine, ye are the branches...without me ye can do nothing." Blake too calls Jesus "the true vine of eternity, the human imagination," and uses his image many times in Night Thoughts, stressing the role of imagination to diminish Young's emphasis on reasoning.
The branches of Jesus's vine are human beings, whose fruitfulness stems from both passion (the embracing couple) and compassion (the mother with children). The hovering angels are powers that surround the imagination; especially words and symbols, which, like angels, have invisible sway over us. Other qualities symbolized by this image are: moral strength, good health, spiritual energy, and creative communication.
The window quotation carries the meaning of Powers even further. It expresses the inspiring truth that human beings are indeed capable of dealing with our human situations, and even of facing and spiritually overcoming death itself. This inherent human capacity is the divine mercy. Jesus expresses this by stretching out his hands in blessing, his down-turned palms conferring the divine powers upon the human figures beneath him.
This card is about completion through strength. You receive divine support that blesses your efforts, and this is a time to seek closure or consummation in your work and relationships. Although 'God is on your side', be careful not to assume beforehand that all your grapes are harvested. Coordinate your forces, and gather your fruit with loving care.
In the creative process, this is when you surrender to imagination, and let its transformative power work through you. Your work becomes your life, and your life the work — a living god, whole and fertile. You are now poised to complete the work at hand.
KEYWORDS: POWERS OF IMAGINATION • POWERS OF LOVE • POWERS OF COMMUNICATION • SPIRITUAL STRENGTH • HEALTH, ABUNDANCE, AND FRUITFULNESS • STAUNCHNESS OF BELIEF • STRENGTH OF PURPOSE • COMPLETION AT HAND • BE CAUTIOUS AGAINST OVERCONFIDENCE •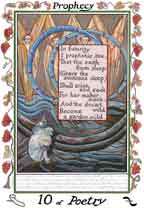 This image illustrates Young's lines:
Orb above orb ascending without End!
Circle in circle, without end, inclos'd
...At once it quite ingulphs all human thought;
'Tis comprehension's absolute defeat.
Likened to Ezekiel's prophetic biblical vision (see X—Whirlwind), these heavenly eye-studded gyres signify not just God's glory but everything that is beyond man's understanding. In response, man can only kneel and humbly acknowledge the divine workings of the universe. The angels stand behind two gyres forming the sign of infinity, and represent the four Zoas; in viewing them we see ourselves as a portion of the divine plan. Note that the nearest orb has parallel arcs that pass through the body of the kneeling worshipper. The orb with eyes signifies that man is part of the divine plan, even though he fails to comprehend his inclusion in the circuit of higher consciousness. The black orb without eyes means he is still impaled on Blake's "circle of destiny," the materialist round of cause and effect. Which orb he chooses is determined by his prophetic vision.
This card is a vision of spiritual possibility, foreseeing a time when mankind rises to its full spiritual stature. In the meanwhile, everyman's task and the poet's responsibility is that of Prophecy, which means to speak the eternal truths — past, present, and future. This means 'telling it like it is' — not from the fallen and illusory perspectives of history, science, medicine, or religion, but according to the only eternal realities, which are those of imagination and the soul.
In the window quotation, Blake prophesies that spiritual awareness will make the materialist desert of man's mind into an eternal garden of delights. Although he speaks of "futurity," in Blake's cosmology there is only the eternal now. The future is now, and this card depicts spiritual awareness in this present moment. There is an element of humility or penance in this card. Spiritual awareness and prophetic statements can be easily misunderstood, not only by the people around you, but by yourself as well. The true nature of things is ultimately incomprehensible, so humility and awe serve better than egoistic pretenses to knowledge and understanding. Speak the truth as you see it, but always remember that your truth can never be the only or complete truth.
In the creative process, this reminds us to worship and humbly commune with the divine powers of the universe, in order to actively participate in the prophecy, which is the awakened consciousness of the greater organism we call Gaia.
KEYWORDS: AWARENESS OF SPIRITUAL REALITY • HUMILITY IN THE FACE OF INFINITY • SPEAKING THE TRUTH AS YOU SEE IT • CHANNELING • BOWING TO THE WILL OF THE [the what?] • ACCEPTANCE OF YOUR LOT •
All the central images used in the four Person Cards of the Suit of Poetry are selected from Milton a Poem, an autobiographical prophecy that was 'dictated' to Blake by the spirit of John Milton. It was written to correct what Blake saw as Milton's errors in elevating reason and confusing God with Satan. The book seeks to cleanse man's perception so that "every thing would appear to man as it is: infinite." It opens with Mose[s?]'s biblical quote, "Would to God that all the Lord's people were Prophets," and describes how both Milton and Blake overcome their selfhood and are assimilated into Los, the spirit of prophecy.
Angel of Poetry
(Air of Earth — Mind of Spirit)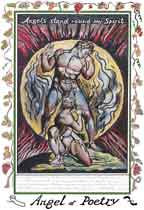 This depicts William Blake himself, as the embodiment of everyman, spiritually merging with Los, the imaginative Zoa and mythic angel of poetry — framed within the blaze of the spiritual sun behind them. Both are naked in their fusion.
And Los behind me stood, a terrible flaming sun,
...I turned round in terror, and behold!
...trembling I stood...but he kissed me and wish'd me health,
And I became one man with him arising in my strength.
...Los had entered my soul...I arose in fury and strength.
Here the artist-poet merges with his own all-powerful genius, suffusing everything with the light of overwhelming inspiration. This could illustrate Blake's line that "God becomes as we are that we may be as he is." Like an angel, Los has descended to earth to be with man, and his upraised arms signify that he honors and accepts him. The rounded earth below suggests that this is the planet earth; Blake is humanity. When the muse and the poet join in mutual attraction and love, the result is an explosive inrush of truth and imagination. In this card, we realize that everything is one thing, which is the divine insight. This card is about mutual emancipation of prophetic expression: man needs God to see; God needs man to speak. It is the prophetic union.
The archangel Michael is concerned with spirit and reconciliation, and can be associated with the Suit of Poetry. Michael ('like unto God') is the Prince of Light, the angelic warrior who does spiritual battle with Satan. Although Michael is not related to the Angel of Poetry, both angels can be conflated as divine emissaries and warriors of the spirit.
This card represents the part of you or another that has the power to come through in the clinch, to hunker down and forge a major breakthrough when things seem desperate. You have the ability to rise up in the face of adversity, receiving energy from a spiritual force. You are assertive but modest, and trust in your imagination to stand by you through thick and thin. With the courage of your convictions, you tell the truth as you see it, no matter what the odds or the cost. Negatively, this could represent inadequate reliance on yourself, counting on outside intervention instead of helping yourself.
In the creative process, this is when everything comes together in a blinding rush of imaginative insight and energy. Your work can be a godly expression of staggering truth and prophecy.
KEYWORDS: RADIATION OF CREATIVE ENERGY • REALIZATION OF DIVINITY • MESSAGES FROM SPIRIT • BURST OF IMAGINATION • BURNING OF INNER FIRES • UNION OF CONTRARIES • SEXUAL RELEASE •
Child of Poetry
(Earth of Earth — Spirit of Spirit)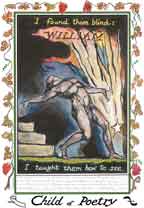 This card appropriately depicts Blake himself, indicated by the word WILLIAM. Beside him is a falling star, which in the poem represents Milton's intellectual energy inspiring Blake, and entering his left (intellectual) foot. Blake's bodily attitude, leaning backward with his arms outstretched and palms upturned, signifies total acceptance of the divine will, including possible self-sacrifice. The carved stone steps at left show the potential for spiritual ascent through one's own handiwork. The figure's nakedness symbolizes his innocence and beauty as he receives the divine spirit. Although the sky is obscured by black clouds overhead, his faith enables him to attract the star that blasts through the negative obstructions.
In general terms, this card shows that receptive innocence can 'catch a falling star', an inspiration that ignites passion and stimulates genius. By contrast, maturity and experience tend to clothe themselves in dogma that wards off divine energies. The card quotation refers to people with blocked vision. Blake teaches that 'seeing' is an attitude rather than an action; it means that we must put aside our 'clothing' of selfhood, and let the realm of imagination enter us without precondition — if necessary, even ridiculously, as through our feet. The Child of Poetry is willing to take major risks.
This is the part of yourself or another that is restless, with strong feelings and quick impulses. You find the new and the strange fascinating, and learn through experience and by taking risks. You will bend over backwards or go to any length to see the light. You are hot-tempered but also down-to-earth and forthright. This individual may have problems with intemperate expression or exaggerated posturing.
In the creative process, this is the beginning of inspiration, when you are first fired up by a staggering idea that may free you from the blindness of previous conventions or paradigms.
KEYWORDS: RECEPTIVITY TO IDEAS • FAITH IN DIVINE INSPIRATION • INFLUX OF CREATIVE ENERGY • IMAGINATIVE BREAKTHROUGH •
Woman of Poetry
(Water of Earth — Matter of Spirit)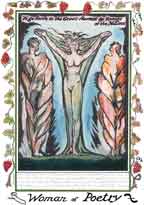 This image contains the final illustration and words to Milton a Poem. The nude woman depicted is Ololon, the Emanation of Milton, a character who represents the multiple-faceted female and specifically the incarnation of the female imagination that resides in the unconscious mind. Her name may be a word-play on 'all alone', with implications of being both unique and seldom recognized. Beside her are two humanized plants, the grain and grape of the "harvest & vintage" of the card quotation. The harvest figures are deliberately ambiguous, and can be interpreted as man and wife, as brothers, as children; whomever, they gaze on the female force and are made fruitful. They are her projections, her offspring, her worshippers, her protectors, and more.
The female is shown in the act of freeing herself; her outstretched hands and upturned palms not only signify divinity but also seem to separate or rend a veil in which she was previously cloaked. Simultaneously, her feet are separating and emerging from the tree-trunk of vegetable existence; she is ready "to go forth... [to the] nations" with passion and intensity. Her hair is wildly free, streaming in all directions, and her gaze is directed upwards. It is as if she channels divine energy from above, through her hands and arms, and then distributes it to her armless acolytes who depend on her for their inspiration and energy. Unlike the Queen in traditional Tarot, who is chastely covered from head to toe, the Woman of Poetry, as so often in Blake, is a figure of radiant sexuality, and we note that her naked flesh raises bumps and prickles on her horny companions.
This is the part of yourself or another that speaks up without reservation, revealing who you really are. This figure is an individualist, generous and open-hearted, who inspires others with her vision and energies. She focuses on potentials and possibilities. When making decisions she opts for self-growth. She can be dramatic and assertive, but also impulsive and unpredictable. She needs to be the center of attention, and may disregard the feelings of others. Projects begun in a rush may falter for lack of patience with tedious details.
In the creative process, this is when you take on problems as creative challenges, refusing to be bound by circumstances or other people's rules. You trust your intuitions and embrace opportunity.
KEYWORDS: FEMININE INTUITION • SUBCONSCIOUS IMAGINATION • LIBERATION FROM CREATIVE RESTRAINTS • CHANNELING OF PROPHETIC TRUTH • FLOWERING OR HARVESTING OF DIVINE ENERGIES • EXPRESSION OF SEXUALITY •
Man of Poetry
(Fire of Earth — Passion of Spirit)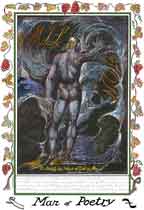 This card depicts Blake's spiritual mentor and poetic hero John Milton. Amid the flames and swirling smoke of mortal and material confusion and error, he is the prototypical poet-artist heroically facing intellectual darkness, right foot forward in spiritual quest. With his raised right hand, Milton breaks his own name into pieces — a blow against selfhood. In addition, Blake, who loved puns, suggests Milton's hand is the instrument of a 'thousand' (mil) 'tones' (ton) of poetry and prophecy. With his hair flowing free, his gazes penetrates into invisible realms of inner truth. The separation of his fingers (on both hands) is a chirological gesture signifying triumph. Unlike the King in traditional Tarot, who is garbed in robes, cape, and crown, the Man of Poetry is naked to signify that he has shed all garments and pretenses. He is clothed with imagination.
The card quotation, paraphrased from Paradise Lost, effectively states the prophetic mission of all poets — to promulgate divine understanding. The elemental fire (around the poet) combined with elemental earth (in the border ) symbolize the passionate imagination that characterizes this card. Negatively, his heroic pose can become mere posturing if he becomes dogmatic and inflexible.
This card represents the part of you or another who is outspoken and clear-sighted. Inspirational to others, you are a fluent communicator and natural leader who makes decisions based on intuition. You need to be center-stage, and expect others to heed your revelations and warnings. The Man of Poetry clears away darkness so that others may see, and bring hidden issues to light.
In the creative process, this shows those moments of inspiration when you suddenly realize where your project is going, or get the 'big picture' unseen by others.
KEYWORDS: PROPHETIC ASSERTION • ACTIVE IMAGINATION AT WORK • MASTERY OF EXPRESSION • TRUTH CONSCIOUSNESS • NAKED CREATIVE FORCE • FOCUSED SPIRITUAL VISION • ATTITUDE OF HEROISM •