Chapter 5
The Suit of Science
THE CHALLENGE OF SELF-UNDERSTANDING.
STRIVING TO KNOW SELF & WORLD.
THE PATH OF INTELLECT & LEARNING.
What are all the gifts of the spirit but mental gifts.
—Characteristics of the Suit
—The Number Cards
1-Intellect
2-Reflection
3-Jealousy
4-Repose
5-Division
6-Passage
7-Lamentation
8-Restriction
9-Despair
10-Defeat
Angel of Science
Child of Science
Woman of Science
Man of Science
The Creative Process Suit of Science represents the intellectual use of divine imagination, or the failure to use it. It corresponds to the Suit of Swords in conventional Tarot. Its symbol is the compass, which literally means 'with paces'; that is, to take equal steps in order to measure something. Urizen, the Zoa of Mind, presides over this suit, whose element is Air. Science is associated with knowledge, with the sense of (external) vision, and with intellectual precision such as required in architecture ('mastery of manual arts') and engineering ('art of ingenuity'). The cards in this suit portray situations and states of being that pertain to the mind or its achievements — in short, to anything that is created and has mental form, for "the increase...of a man is from internal improvement or intellectual acquirement." Pertaining to works of art, Science specifically includes the study and practice of such disciplines as physics ('science of nature'), astronomy ('arranging of stars'), astrology ('speaking to stars'), and philosophy ('love of learning'). It also includes the many crafts and skills that involves structuring things or thoughts. In general, anything based on reason, logic, and memory is included in this suit. Therefore, technology ('speaking through the hands'), politics ('science of cities'), economics ('household management'), and history ('knowledge') are also part of Science, although as "degraded" or fallen forms.
Historians...cannot see either miracle or prodigy; all is to them a dull round of probabilities and possibilities.
Basically, the Suit of Science applies imagination to one's external vision, and attempts to shape the world of nature. The true scientist-technician-thinker-academic creates forms in the external world using the imagination, whereas the "degraded" scientist applies created forms to suppress imagination — one "who publishes doubt & calls it knowledge; whose science is despair." In this sense, "Science is the tree of death."
Imagination is the immortal power of forming images in the mind, and Science is the mortal power of applying those images to gain knowledge and control over oneself and the environment. If the mind is passive and unimaginative, it allows reason to become a tyrant that creates inhumane laws and unholy machines.
Study sciences till you are blind
Study intellectuals till you are cold
Yet science cannot teach intellect.
The Suit of Science, like its corresponding Suit of Swords in the traditional Tarot, is the most 'negative' of the suits in its deck, unfolding "dark visions of torment." To Blake, the star-crossed intellect is the contrary of the sunny imagination, and he says that unless the intellect is emotionally joined to the imagination (as in Beulah and Eden), the spectrous intellect inevitably leads to self-cruelty and defeat, as in this suit. Nevertheless, every card in the suit can also be interpreted within the framework of self-understanding and learning, and each points to imagination as the means of elevating Science into the true arts of man. Furthermore, in depicting Urizen as the adversary of imagination, Blake gives a body to error so that it may be recognized and cast out.
Men are admitted into heaven not because they have curbed & governd their passions or have no passions but because they have cultivated their understandings.
The borders of all the suit cards depict stars, which Blake associates with the intellect (speculation upon the universe). The inner edges of the card borders are yellow to symbolize its element of air. The faint design in the Symbol Windows suggests the idea of Structure that underlies this suit. All the cards of this suit are cautionary and instructive, insistently warning of the dangers of self-centered consciousness.
The ten Number Cards in the Suit of Science are all from The Book of Urizen, giving them both visual and symbolic continuity. The plot of Blake's book is a parody of the human birth process, a "ninefold darkness" in which Urizen's body of error is created with Los's help. It can also be considered a Blakean retelling, in seven 'ages', of Genesis in the bible. The story unfolds as a perverse gestation that concludes with Urizen being fettered in his own selfish consciousness — a metaphor for the mind enslaved by reason instead of freed by imagination. Urizen becomes one of the "giants who formed this world into its sensual existence and now seem to live in it in chains." Although Los appears in this book, he has not yet evolved into his heroic aspect as the prophet of eternity; here he is a false prophet who is controlled by Urizen's power. A relevant metaphor in the story is the tent called "science," erected over Los and Enitharmon to limit them — representing Science as an enclosure for time and space.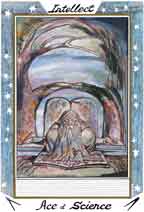 This card comes from the book's title page, and depicts the Zoa of Mind as a blind patriarch squatting on an open book, writing with his right hand while etching with his left. From the edges of the open book descend roots indicating that these ideas are from nature, not the imagination. Behind the figure are tombstones representing spiritual death; they are also Mosaic tablets of moral law that limit individual freedoms. Arching over the whole tableau is the forest of error, part of which encloses the mind in a burial chamber. Urizen, the "dark power," creates the mental world of intellect and consciousness, but lacks creative vision. He writes down natural laws and scientific truths without understanding their implications. Blake stressed that error must be recognized before it can be cast out, and thus Urizen's situation is instructive.Behind him is an open space of sky, which is the means to imaginative freedom — he has only to turn around and see it. (Compare with XVII—Stars.)
This card is about acquiring and retaining new knowledge. It is pure mental perception that neither sees nor judges, but simply records. Here we accumulate and document information without emotion or judgement. We are poised, balanced in the midst of ideas for their own sake, absorbing and taking them in. It may seem like we are walking blind through a forest of overwhelming possibilities, gathering details without yet knowing how they will fit into the final product. This card can also mean the ability to see both sides of a situation objectively. It indicates a single-focused input with multiple outputs.
In the creative process, this is when you stuff your brain with knowledge. The image depicts the brain itself, the 'seat' of intellect, showing both the left and right hemispheres, and its 'blind' absorption of data.
KEYWORDS: INTELLECT • BEGINNING OF A NEW IDEA • MENTAL FOCUS AND CLARITY • ACQUISITION OF KNOWLEDGE • OBSESSION WITH ACHIEVEMENT • OBJECTIVITY • WILLPOWER • ABILITY TO DO MULTIPLE THINGS • OPPORTUNITY FOR MENTAL BREAKTHROUGH • INTELLECTUAL WORKAHOLIC • SELF-CENTEREDNESS •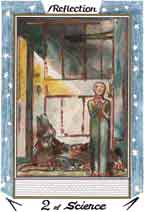 This card shows a child standing with his back to a mysterious door that is slightly ajar. Beside him is a dog who growls at the opening. An opening or opportunity awaits, which may be longed for or feared. Both figures seem to be reflecting on their next move. Across the door falls a streak of dark shadow and a burst of golden light. Trepidation and hope are equal possibilities. With which figure do you most identify? What are you doing there and on what are you reflecting? Although the door may be an opportunity for growth and adventure, it could, on the other hand, indicate something to be avoided or guarded against. It intimates unusual or unknown consequences. Although inviting, it might better be left unopened. One of your choices here is not to choose.
Blake called this image "Dog at the wintry door," and means it as a commentary on the plight of children exploited in factories and as chimney sweeps and beggars. He wants to arouse our sympathies: "Then cherish pity, lest you drive an angel from your door." He wants us to recognize innocence at the entryway to experience.
The dog and the child suggest two different approaches to a choice or decision: animal instinct versus human logic — with the child having the added meaning of imagination. In effect, both faculties are begging to be chosen; meanwhile, they block the door. They might also represent potential action versus self-reflecting reverie. The card shows a point at which no choice has yet been made, and compromise or arbitration may be required.
In the creative process, this is when you speculate on potentials and possibilities in your imagination. You must choose which method or course to which to commit — divergent versus conventional thinking, perhaps.
KEYWORDS: REFLECTION • MENTAL CHOICES • UNCERTAINTY • TENSION • AN UNEASY PEACE OR DELICATE BALANCE • CAUTION • BEGGING FOR A DECISION • WAITING • PROCRASTINATION • NEED FOR COMPROMISE • ENTRYWAY •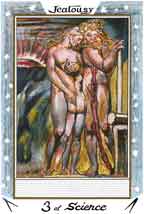 This card shows a naked family: a man in chains holds a long hammer, while next to him, with her forehead pressed to his, leans a woman embracing a clinging child. This is Enitharmon and Los (who represent imagination), and their son Orc (who represents revolution). The child, literally "fed with milk of Enitharmon," is the object of Los's hatred, symbolized by the "chain of jealousy" that dangles from his breast. Los will eventually chain Orc in vengeance. What should be a loving family takes on insinuations of sexual slavery and heartbreak. This is jealousy as mental imprisonment.
The chain is the dominant symbol. It signifies bondage to sex — note how the male's erect penis is assimilated into the links of the chain. It is also the "endless chain of sorrows" that links all the generations of humanity in psychosexual torments involving Oedipal conflicts and jealousies. And it is the chain of nature, or what 18th-century writers called the 'chain of being', which Blake took to mean the enslavement of the mind and imagination within the biological constrictions of the body. And it represents the reasoning mind's enslavement of the spiritual impulse — Blake's "mind-forg'd manacles" that bind language and thought in rules of law and religion. Finally, it represents the chain of time (for Los is also the time-lord) that binds man to mortality, emphasizing again that freedom can only be found in the spiritual life. Los (a smithgod) holds a hammer that he could presumably use to shatter the chain, but jealousy, by its nature, disorders and paralyzes the mind. The setting of the spiritual sun in the background dramatizes their sorrow, but it could also be rising on new opportunity.
Hope appears in the continuing attempts to communicate (foreheads touching) to find some ground of understanding. Current jealousies may be based on old pains that we inappropriately apply to the present situation. Cooperation is implied here, as all parties are in bodily contact. Honesty by baring the soul and following the feeling to its source, each within ourselves, can help release old pains and bring growth.
In the creative process, this is when you feel chained by convention, needs, or requirements. You may become jealous of others who are not as constrained. Seek honest communication and cooperation to avoid frustration and paralysis.
KEYWORDS: JEALOUSY • SEXUAL OBSESSION • HEARTACHE • SORROW • MENTAL PAIN AND CONSTRICTION • LACK OF FREEDOM • MENTAL DISTRACTION OR CONFUSION • FORCED COOPERATION • MENTAL ADJUSTMENT THROUGH THE EXPERIENCE OR SHARING OF PAIN •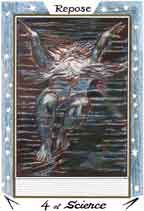 This is Blake's image of Urizen "brooding, shut in the deep" of the sea of time and space — the world of materialism. "In dark secresy" he hides his fantasies in "surgeing sulphureous fluid." Sulphur signifies vital heat and is associated with reason and the male principle; in other words, he suppresses his burning thoughts. An inscription on the print declares, "I labour upwards into futurity." In his mind, he believes he is going somewhere, but his slack knees and beard show he is drifting and relaxing despite himself. His outstretched arms mimic divinity, but his palms are down-turned — he is a mock god in exile from his element of air, recuperating from the exertion of his endless tyranny of dispassionate logic and reason. 'Repose' literally means to put back, to restore, and in this card the mind puts itself back into its elemental container; immersion in the water of the body prevents sulphurous mental burnout.
This card is about taking time-out from life's daily struggle, and letting yourself be swept along without struggling against the current. Rest from mental activity is required here, perhaps through getting lost in the healing flow of meditation, or a spa, or other mode of relaxation. This is only a temporary retreat — a need to let go of concerns. This kind of mental truce allows ideas to settle and consolidate themselves into a natural harmonization of elements. After such a release from tension and anxiety, you may find that the solution will simply float to the surface.
In the creative process, this is when you let go of previous restrictions, letting bafflement take over. When you relax and let go, taking time off from work, new insights will surface.
KEYWORDS: REPOSE • REST FROM MENTAL ACTIVITY • RECOVERY OF SELF • RETREAT INTO ANOTHER ELEMENT • SELF-ABSORBED SOLITUDE OR SECLUSION • TRUCE • MENTAL CONSOLIDATION • HARMONIZATION OF IDEAS • BROODING THOUGHTS • FORCED WITHDRAWAL • DISCONNECTED SELF-OPINION •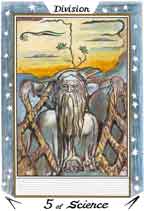 Here we see Urizen more enmeshed than ever in his web of reason. "None could break the web...so twisted the cords, & so knotted the meshes, twisted like to the human brain. And all call'd it the net of religion." This net is the false religion of laws and judgement, of logic and Deism that denies divinity (see V-Religion). Blake sees this "dark net of infection" as dividing the cities in the "form of a human heart...bound down to earth by...narrowing perceptions." Thus, Urizen's net, ironically heart-shaped, divides him from others and from his imaginative potential. Only his right shoulder is caught, but his free left arm free wraps the net tighter. This is the essential division within Urizen's nature: his self-constrictive dualism.
This card shows you so divided by your mental conflicts that you become paralyzed or weighed down by inertia. Negative thinking is limiting your possibilities and creating an aura of defeat. Action is inhibited. You are not receptive to help, having become so ensnared in your own reasons that you can see no others.
Hope is seen in the new plant seemingly rising from the head or center of the divided figure, sprouting flowers on both sides. Some plants propagate best by dividing their roots. The figure can emerge from the net by dividing it. When a task becomes too great, a city too large, a plant too overgrown, division is necessary. A group of problems taken together cannot be solved, but dividing them can be a means to success.
In the creative process, this is when you feel weighted down by the enormity of the problem or project. Try to divide it into smaller segments that you can handle or step around.
KEYWORDS: DIVISION • MENTAL FRAGMENTATION • NEGATIVE THINKING • NARROWED PERCEPTIONS • VICTIMIZATION • UNFAIR OR UNDERHANDED TACTICS • LOSS OF FRIENDS OR PURPOSE • DIVIDE AND CONQUER • NEW HOPE FROM OLD RESTRICTIONS •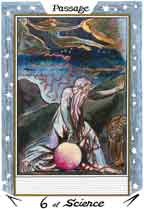 Two scenes from the book are collaged into one image. Below, Urizen explores his "dens, mountain, moor, & wilderness, with a globe of fire," while above, a naked woman pushes back obscuring clouds to reveal the firmament. Urizen blindly strides, left foot forward, on a "fearful journey" through "forsaken mountains," encountering "cruel enormities" and "dread terrors" writhing in the sky. His globe of imagination is enclosed by his selfishness, and its black flames provide no light. He does not see the lion, who seems ready to offer guidance or even humor (which Urizen lacks although Blake does not). The lion is our ignored instincts, and life's exotic surprises. The unseen lion and the blackened globe represent lost opportunities, much like the classic tourist who carries the wrong luggage, overlooks the natives, and misses all the fun. Nevertheless, this traveler pushes forward with a sense of purpose, feeling his way as he goes.
The woman is Enitharmon, the imagination at work, who tries to shed light on the struggling Urizen. The stars she reveals are the Pleiades and the belt of Orion, the former representing wisdom and the latter, the foolish hunter. In her left hand she grasps the moon and in her right the sun, so that she is herself the passage or mediator between the contraries of female and male, the unconscious and conscious modes. Her negative aspect is in her alternative role as pity, which "divides the soul."
With this card, passage is possible to new lands, to a higher level of consciousness, or to a place of objectivity where you can gain perspective or get an overview. Once set in motion, keep the ball rolling. Take advantage of the resources and opportunities offered. You do not journey alone; let imagination be your guide.
In the creative process, this shows where opportunities may be overlooked by blindly pushing forward without pausing for reassessment. Stay open to making adjustments based on new circumstances encountered in the process. Get an overview of your progress.
KEYWORDS: PASSAGE, TRAVEL • RITE OF PASSAGE • JOURNEY OF CONSCIOUSNESS • MENTAL OVERVIEW OR PERSPECTIVE • HELP FROM HIGHER UP • MOVEMENT AWAY FROM DIFFICULTIES TO RESTORE HARMONY • MEDIATION BETWEEN CONTRARY STATES • OPPORTUNITIES OVERLOOKED • DEPRESSION OR DANGER •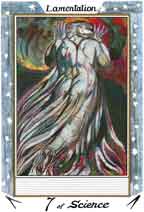 Here we see Urizen energetically moving away from us with his hands raised beside his head. He could be wailing in sorrow, fleeing from a situation he 'can't handle', or straining against something, especially the globe of fire from the preceding card. In the story, Urizen "sickend to see...that no flesh or spirit could keep his iron laws." The realization of this failure becomes a lament of "weeping & pain & woe." So, leading with his unspiritual foot, he flees in self-protective sorrow, and attempts to push the globe of light (his imagination/soul), trying to 'get away with something'. In doing so, he blocks the spiritual light. His energetically flowing robe is the complex emotional residue of his actions, which are "stretch'd from the sorrows of Urizen's soul." Positively, this card can be interpreted as someone using sorrow to reshape his thoughts or plans, to extract energy and strength from his turbulent mind, or just resisting the oppressing pressure.
This card is about the pain of not trusting the imagination. You may feel like your task is impossible. You want to put your head into the fire and scream with pain. You may 'push your weight around', or if direct action seems futile, try to 'get away with something'. Such tactics are selfbetraying and lamentable. Just as the body strengthens from pushing against something, so does the mind. The 7 cards are tests, and this is a test of the mind. Let your lamentation be a springboard for self-renewal. Use your wits to develop a new strategy. Gather ideas and materials. Resist the negative pressures. Look directly at what you have to work with and mold it as best you can.
In the creative process, this is when you are stuck or 'pushing it'. You wail at the wall or boundary. Be compassionate with yourself and others involved; take infinite pains to find a way around the problem or to develop a new strategy.
KEYWORDS: LAMENTATION • MENTAL TESTS • DISAPPOINTMENT • DEFEATIST THOUGHTS • RUNNING AWAY FROM PROBLEMS • UNSTABLE EFFORT • MANIPULATION OF IDEAS • MANIPULATION OF SITUATIONS • GATHERING IDEAS AND MATERIALS • SHAPING AND PREPARING • RESISTING PRESSURE •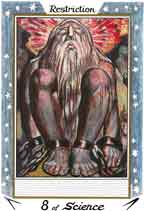 Urizen, still weeping, has ceased resisting and is now bound in irons. He has reached a "state of dismal woe," manacled by his own abstract ratiocinations. His closed eyes signify that he exists in spiritual darkness. Desiring to enforce "one command, ...one weight, one measure, ...one God, one law," he has become "in chains of the mind locked up." Limbs contracted to his torso, he is an aged fetus, his wisdom imprisoned within his own dogmatism. This is an image of the "eternal mind" trapped in the mortal flesh, making us focus on the needs of the body instead of the spirit. Blake's inscription to this image, "Frozen doors to mock the world" suggests that Urizen is a metaphor for a living book of knowledge that is rendered useless, its wisdom locked between frozen covers. Even so, the intellectual light and creative fire of the "eternal mind" still emanate from the figure's head.
Distrusting your own power, you may have willingly accepted obstacles and interference to avoid the potential consequences of your actions. Or perhaps you are restricted by circumstances for the purpose of concentrating on spiritual matters. The closed eyes indicate a focus upon an inner reality. Eventually the energy of applied imagination can break the bonds of materialism, as shown by the exploding matter in the background. Use your ingenuity and intuition rather than brute force to liberate yourself.
In the creative process, this is where you transcend feeling trapped by impossible limits. Necessity forces improvisation; structure ignites spontaneity; limits yield intensity. The more constraint, the greater the spiritual freedom.
KEYWORDS: RESTRICTION • MENTAL BLOCKS OR OBSTACLES • SELF-IMPOSED BLINDNESS • CONSTRICTIVE ATTITUDES • LIMITED BY DOGMATIC IDEAS • SUPPRESSED ENERGY OR CREATIVITY • FEELINGS OF HELPLESSNESS • LATENT IMAGINATIVE POWER • MENTAL FREEDOM DESPITE PHYSICAL RESTRICTION •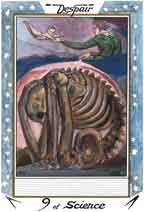 The skeletal Urizen hunches in the fetal position, while collaged above a woman extends her hand to a hovering infant. Blake's describes the skeleton as being "in a horrible, dreamful slumber...a vast spine writh'd in torment upon the winds...like a bending cavern; and bones of solidness froze over all his nerves of joy." Consciousness is in dread sleep within the bodily cave that confines us, trying to avoid the pain of mortality that kills the joy of life. Nightmares of the intellect shrivel us into a ball of self-inflicted despair. This is the soul in the power of the Spectre: "the Almighty has made me his contrary...knowing and seeing life, yet living not."
Protecting its head, the figure shrinks from expected blows. These are projections of one's own fears arising from the perfectionism that rationalism expects. Guilt and depression can cause us to hide from innocent joy, or to withdraw from the weight of the world's sorrows. This card depicts the mind tormented by its own demons — grief from past failures, or the soul's suffering when personal wrongs or society's problems seem uncorrectable. Despairing over what went wrong, we may take the blame upon our own heads.
The woman and child in the plane above are symbols of acceptance and hope. The woman, her hair bound as a matron, depicts the inner maturity and emotional stability that can penetrate the black cloud of despair, as she does with her right or spiritual hand. She is the earthy green spirit of love and forgiveness. The child she welcomes is the skeleton's pure soul, who looks compassionately at its alter ego. The possibility of regeneration comes when we forgive not only ourselves but those who have hurt us. The self-enfolded skeleton positively represents integrity of structure and intrinsic wholeness. Pain is necessary but temporary. Grief and despair can take us back to the essence or "bare bones" of who we are, stripping us of everything that is incidental. We can reclaim our innocence; we can rebirth ourselves.
In the creative process, this is where criticism and inner grief overwhelms you. Judgements block creativity and produce rigidity and doubt. Go within yourself and think back to where you began; forgive your mistakes and recapture the initial innocence.
KEYWORDS: DESPAIR • MENTAL ANGUISH • SELF-PITY • DEPRESSION ¥ WRACKED WITH GUILT • FEAR OF PUNISHMENT • SENSE OF ISOLATION • INSOMNIA AND NIGHTMARES • . PUTTING YOURSELF DOWN ¥ STRIPPING TO BASICS • SOUL-RETRIEVAL • SELF-FORGIVENESS • INTENSE CONTEMPLATIVE WITHDRAWAL •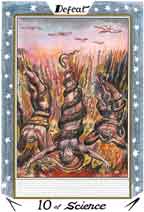 This card shows three figures encircled by serpents of death, falling head-first into a pit of fire. Two faces peer out from the flames, while eagles circle overhead. In Blake's plot, Urizen, furious with the other Eternals for opposing him, consigns them in his mind to "unquenchable burnings." In this view, the divine qualities in man are defeated by the forces of tyranny, and are painfully lost in the infernal abyss of materialism. Likewise, you may find yourself entangled in the slander or machinations of others, and headed for a fall. This could arise from being 'too smart for your own good', or from unavoidable situations reflecting your worst fears. If defeat is inevitable, you can still surrender with grace, your thoughts imaginatively circling above. The two faces peering from the flames are the perennially contending spirits of life who ritually defeat each other: the one on the left, old and wizened, represents repression and loss; the other is young and leonine, representing energy and life.
This image also illustrates Blake's statement that "the modern church crucifies Christ with the head downwards" — meaning that Christ today would be considered a rebel angel or a devil, condemned by secular society for his sacred imagination. Perhaps you are being crucified for unpopular or rebellious actions. Your choice is epitomized in the three figures: Two cringe in fear, while the central figure calmly accepts his fate. He exultantly prefigures transformation and resurrection — the attitude of life-in-death that is the touchstone of spiritual consciousness. Material defeat and death to Blake mean spiritual victory and eternal life. This requires the voluntary sacrifice of the scientific reasoning mind. Those who despair at this will perish, for we must die to material consciousness in order to serve the imagination. The birds in the card are the ennobled phoenixes that rise from the ashes of sacrifice.
In the creative process, this is when difficulties consume you, and your work goes down in flames. Defeat is a form of intellectual bondage, and must be transcended. Physical or materialistic suffering is the quickest path to spiritual breakthrough.
KEYWORDS: INTELLECTUAL DEFEAT • SPIRITUAL VICTORY • DESCENT INTO PERSONAL HELL • HUNG-UP OVER MATERIALISTIC FEARS • WRAPPED IN VICES • ACCEPTANCE AND RESIGNATION • SACRIFICE AND SURRENDER • DEFEAT OF THE REASONING SELF • MISFORTUNE • RUIN • ADDICTION •
The central images used in the four Person Cards of the Suit of Science are selected from a variety of Blake's works.
Angel of Science
(Air of Air — Mind of Mind)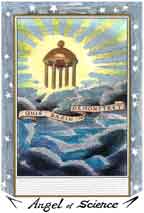 Ironically, this image is from the title page of a scientific textbook advocating the rational materialism that Blake despised. Therefore, this is Blake's satiric comment on the scientific and intellectual idealism that separates us from our prophetic imagination, or soul. The card depicts a radiant temple in the sky, a veritable 'brass tower' of the mind whose foundations are hidden behind a bank of ephemeral clouds. The angel is apparent only as a circle of white light illuminating a geometry of Ionic precision and philosophical starkness. The breeze-blown banner asks Who would demonstrate the foundation of such a structure? This is a lofty Deistic vision, a literally classical projection of overglorified intellectuality. The Angel of Science is so abstracted that it has no human features. It is an abstract angel of air supported by a vaporous structure of mind. The muse of intellect offers you pure, objective mind coupled with clear, unemotional and unbiased thinking.
This is the part of yourself or another that believes in answer and explanation for everything, or a law by which things can be understood: absolute justice, universal principles. It is wanting to 'know' for knowledge's sake. You crave mental stimulation. This is like a bright idea, a light bulb in your head. It taps the invisible power inherent in maps, diagrams, equations, measurements, relational databases and spreadsheets, so as to mediate between us and the physical world, and spirit as truth. This muse can take the form of an environment, atmosphere, or attitude conducive to mental focus.
The archangel Gabriel can be associated with the Suit of Science, for it acts as the chief messenger of God. Gabriel ('God my strength') is the angel of truth and celestial revelation. Gabriel appeared to Mary to tell her to name her son Jesus. Although Gabriel is not related to the Angel of Science, both angels can bring fresh perspectives, or stimulate enlightening ideas.
In the creative process, this is the pure inspiration that can come in a flash of transparent thought, and you are likely to know how to apply it to your work.
KEYWORDS: RATIONAL MATERIALISM • FOCUSED INVOLVEMENT WITH ABSTRACT ISSUES • ISSUES OF CLARITY VERSUS ILLUSION • SCIENTIFIC AND INTELLECTUAL IDEALISM • UNEMOTIONAL AND UNBIASED THINKING • MENTAL STIMULATION • A BRIGHT IDEA • WORKING WITH MAPS OF UNDERSTANDING • INTELLECTUAL SELF-ABSORPTION •
Child of Science
(Earth of Air — Spirit of Mind)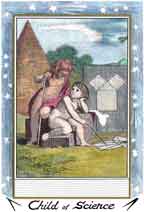 This card from an engraving for the title page of a 1782 children's textbook of science and measurement. A child points to a sketch of the Pythagorean theorem, also drawn on the adjacent stone wall. Mathematics is shown to be the 'ground of existence'. Pythagoras was a 6th century B.C. Greek mathematician and philosopher who taught that numbers form the underlying basis of reality, an idea that began the ultimately successful effort of Science to separate spirit from matter. (Blake responds that "God is not a mathematic diagram.") This scientific child, and his alter ego, are grounded in ratiocination and materialism and thus lack spirit and imagination (only their left feet touch the ground). On the other hand, the child represents the spirit of learning; he nakedly seeks truth and openly communicates what he discovers.
Of the two aspects of the child, one is dark, partially cloaked and its face obscured, with long hair, and staff grounded in the earth. The other child is light, open, with bound hair, and baton as teaching tool. The twin-aspected Child of Science, one dark and wild, the other light and groomed, are the airy twins of Gemini being schooled in the pagan and natural sciences. The outdoor environment, with its various representations of nature, indicates that the phenomenal world is the subject of their speculations.
This is the part of yourself or another that likes to figure things out; that plans, measures, divides, and describes. Or you could be considering some campaign or strategy, acting as the brains behind the pack. We see symbols of classical knowledge and wisdom: the pyramid, Pythagorean geometry, and stones of permanence. This child looks for permanent truths and underlying infallible laws to explain or direct action. He wants to know the layout and the ground plan before moving in. Innocence questions everything, and its mental agility and quick-wittedness can clear up any mess. Communication, negotiation, and diplomacy can be your tools. This is a serious child, ready to defend his position. Taken to an extreme or threatened, he can become critical, cynical, quarrelsome, spiteful, and scheming.
In the creative process, this is when you first put pencil to paper to come up with an outline or a plan, or you talk it through with a friend. This can be the initial stages of organization and research to find out if something is actually feasible.
KEYWORDS: DEVELOPING MENTAL POWERS • LOVE OF LEARNING • RATIONAL VIEW OF NATURE • CONSCIOUS AND SUBCONSCIOUS COMMUNICATION • SEEKING TRUTH • PRECOCIOUSNESS • INTELLECTUAL DUALISM • MENTAL QUICKNESS •
Woman of Science
(Water of Air — Matter of Mind)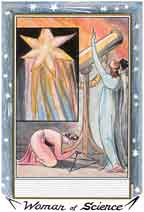 This card is a collage of two designs from Edward Young's Night Thoughts, illustrating the line, "Ye searching, ye Newtonian, angels! tell, where, your great Master's orb? His planets, where?" Here the triple feminine is involved in Newtonian (that is, scientific) pursuits, bathing in the glow of illumination from above. The "bold comet" in the window symbolizes the love of knowledge and the cosmic energy that characterizes the Woman of Science. Seven-pointed, the comet can be interpreted as Sophia, the goddess of wisdom, and her seven planetary spirits, the seven pillars of her temple, and the seven legendary priestesses who founded the oracle-shrines of the ancient world. The telescope indicates an ability to see at a distance, a form of intellectual scrying.
This is the part of yourself or another who researches and studies things with care, who has exalted values and ideas, who looks to the future, turning her back on what has not worked in the past. The Woman of Science integrates what is possible (looks to the big picture or overview), with care for details (laying the groundwork). She freely offer her ideas and knowledge to others. An excellent teacher, counselor, and business executive, she is highly disciplined, and pays attention to detail. Communication and truth are central to her relationships. Seeing easily through subterfuge, she judges with a critical mind and sharp tongue. Emotionally detached, she is determined to maintain her perspective. Visionary but opinionated, her intellectual curiosity is a blessing and a fault. In the the extreme, she can be rigid and unyielding, looking to the principle rather than the particular, and have an answer to everything.
In the creative process, this is when you gather information to fit into a plan or design, and then look at suitable strategies for progressing further.
KEYWORDS: MULTIPLE APPROACHES OR ALTERNATIVES TO LEARNING • INNER INVESTIGATION • LOVE OF RESEARCH AND KNOWLEDGE • SCRYING OR "SEEING FROM A DISTANCE." • PROFESSIONALISM • AN INTEREST IN ASTROLOGY • SHARP AND CRITICAL • OPINIONATED OR UNYIELDING VIEWS •
Man of Science
(Fire of Air — Passion of Mind)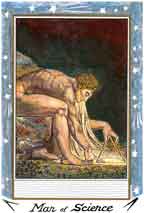 This is from Blake's famous painting, Newton, which depicts the archscientist Isaac Newton on the floor of the ocean of illusory materialism, seated on a stone, bending forward to make measurements with a compass. Newton, who died 30 years before Blake was born, is considered one of the greatest scientists of all times; he discovered gravitation, developed optics, and invented calculus. Although Blake respected his genius, he saw Newton as embodying all the Urizenic principles of scientific rationality that denied the imagination and spiritual reality. Dangling over his left shoulder is his rational cloak woven on "the loom of Locke." On the rock beneath Newton's thigh is a squid, "polypus of death...that vegetates beneath the deep," symbolizing the evils of human society, whose tentacles reach into every man's life, bringing doubt and despair. In Blake's view, Newton and his sciences serve a useful purpose by giving visible form to error, making it vulnerable to eradication. Although surrounded by intellectual darkness, Newton himself in his naked beauty, and his work, are brilliantly illuminated by an inner light.
This is the part of yourself or another who thinks, discriminates, and measures everything critically, with high ideals. As a perfectionist, you can get stuck in ideation, and may have difficulty putting things into practice. You worry over any ambiguity or unclear consequences. The Man of Science is a loner, characterized by personal detachment and self-possession. He knows something about everything, and is fascinated by new topics. Full of ideas, he thinks they can solve the world's problems, but may become cynical. An explorer and pioneer of the mind, he plots maps for the rest of us to follow. He can be a researcher, analyst, strategist or theorist. He names and classifies, defines principles. He teaches, preaches, and judges. Taken to extreme, this part of you can be ruthless or vengeful, rarely listening to others and seeing mistakes as someone else's fault. Beware of falling into obsessive intellectuality, know-it-all snobbism, or calculated cruelty.
In the creative process, this is when you refine and hone your work by submitting it to critical analysis, careful measurements, and quality control.
KEYWORDS: GENIUS AT WORK • IMMERSION IN MENTAL WORK • FOCUSED CONCENTRATION • EXCESSIVE RATIONALITY • OBLIVIOUS TO SURROUNDINGS • PLOTS AND PLANS • NEARNESS OF MENTAL DEPRESSION •