Chapter 6
The Suit of Music
THE CELEBRATION OF LIFE FORCE.
FEELING WITH HEART & SOUL.
THE PATH OF LOVE & BEAUTY.
I love the jocund dance, The softly-breathing song.
—Characteristics of the Suit
—The Number Cards
1-Passion
2-Contraries
3-Exuberance
4-Musing
5-Melancholy
6-Pleasure
7-Fancies
8-Discontent
9-Happiness
10-Sublimity
The Creative Process Suit of Music represents the emotional uses of divine imagination. It corresponds to the Suit of Cups in conventional Tarot. Its symbol is the lyre, an ancient stringed instrument whose name means 'to laud in song'. The earliest lyres were made by stringing animal horns, and its seven strings were the basis of todaysÕs musical scale. The lyre was sacred to Orpheus, Greek god of music, and was honored in the stars as the constellation Lyra. Luvah, the Zoa of Emotions, presides over this suit, whose element is Fire. Music is associated with passion, the sense of smell, and abstract precision such as in musical theory and mathematics. The cards in this suit portray situations and states of being that pertain to human feelings, especially love, as related to the power of imagination. When pertaining to works of art, Music specifically includes the study and practice of such disciplines as music ('art of the muses'), dance ('to move or stretch'), and weaving ('the art of webbing'). It also includes activities related to fire, such as chemistry ('pouring and melting'), alchemy ('mixing of fiery fluids'), perfumery ('through the smoke' [incense]), and cooking — the latter two being related to both fire and smell. Anything related to emotional causes is part of this suit, because the highest power of music is its ability to kindle the emotions. In addition, because of the mathematical and harmonic structure underlying music, the suit also applies to law and mathematics, although these are "degraded" or fallen forms because they seek to bypass spiritual vision. In general, Blake associated music with the idea of transcendence, and therefore uses musical symbols throughout his art to represent spiritual and imaginative states.
Basically, the Suit of Music is about one's spiritual vibration or energy, and its expression through the use of imagination. Music relates to the world through the heart and emotions. The true musician-dancer-weaver-alchemist inspires love and creates emotional beauty in the external world by using the imagination, whereas the "degraded" musician rationalizes or regiments feelings to suppress the imagination, as in the following description of Urizen:
He formed also harsh instruments of sound
To grate the soul into destruction or to inflame with fury
The spirits of life to pervert all the faculties of sense.
The borders of all the suit cards depict flames and smoke symbolizing the heat and passion of the emotions, and its element of fire. (Swedenborg defined love as spiritual fire.) The inner edges of the card borders are red to symbolize the suit element. Each card has a Symbol Window at the bottom whose faint design of wavy lines suggests the vibrations of energy (and music) that characterize this suit. Each card also contains a thematic quote from Blake that extends its meaning and emulates lyrics to music. They are like Blake's "sounds of spiritual music and its accompanying expressions of articulate speech."
The ten Number Cards in the Suit of Music are all from Blake's watercolor designs to Poems by Mr. Gray, giving them both visual and symbolic continuity. Blake's book of designs illustrated 12 poems by Thomas Gray, a poet whose work Blake admired. A single copy was commissioned by a patron as a gift for his wife; thereafter the existence of these designs was unknown to the public for over 100 years.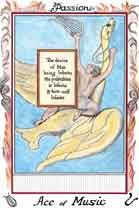 This card shows a naked youth astride a giant swan ascending in full flight. In one hand he holds an upraised lyre and in the other a pair of reins. The opening illustration to Gray's book, it represents Genius being carried by Inspiration. In Blake's symbology, upward flight signifies energy — the life force associated with man's desires. The swan embodies purity, grace, and fertility, in union with the youth's naked innocence. In Greek mythology, the swan is the mount of Apollo, the god of music whose instrument was a lyre, and who Blake related to the divine imagination. The lyre is the instrument of Luvah, the Zoa of Music. Its shape symbolizes sexual energy, for the sounds rising from between its horns are said to have initiated the birth of the universe. Traditionally, the lyre has either seven strings (representing the planets) or twelve strings (representing the astrological signs), and thus unites the forces of the cosmos. The reins in his right hand show that you, as Apollo/Luvah, can control and direct these creative energies.
The quotation in the window declares man's passion for life, which must be matched by an infinite capacity to live life.Thus the card shows your unlimited ability to 'ascend to heaven', to open yourself to dreams and especially to your own feelings — to soar on wings of inspiration to the heights of your loftiest desires, and to lovingly perceive the unlimited nature of life.
This card is about giving yourself completely over to the feelings of the moment. 'To desire' means 'to long for the stars' and now, on the wings of your imagination, you can get there. You seek elegance and majesty beyond the influence of finite things. This is the realization that you are an unlimited being. We all have a genius and passion for something higher. When this card appears, look for a sign of where your passion lies.
In the creative process, this is when you desire to possess or achieve something with passionate intensity. Let your genius soar upon your inspiration, and go for it.
KEYWORDS: PASSION FOR LIFE • UPLIFTING EMOTIONS • FEELINGS OF ONENESS • OPENING TO FEELINGS • CREATIVE BREAKTHROUGH • RECEPTIVITY TO PSYCHIC, SPIRITUAL, OR UNCONSCIOUS CHANNELS • AWARENESS OF YOUR INFINITE POTENTIAL •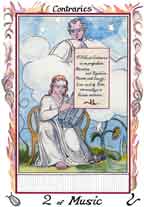 This card shows Reason looking down from the clouds of matter, hearkening to the gentle vibrations of Imagination's song — as the scientist Isaac Newton listens to John Milton sing — illustrating Gray's lines from his "Ode to Music":
Milton struck the deep-ton'd shell
And, as the choral warblings round him fell,
Meek Newton's self bends from his state sublime,
And nods his hoary head, and listens to the rhyme.
Milton is poetic inspiration, Newton is rational inspiration; their essences are quite different yet augment each other. Blake believed that consciousness can be posited in terms of "contrary states" of existence, which are unique and necessary to each other. In this instance, Newton represents reason or science, while Milton represents the contrary state of energy or imagination. Contraries are not opposites (which negate each other) but are interactive components of a whole, much like the oriental concept of yin and yang. The opposite or negation of imagination is vegetated dullness. Mercy and justice are contraries, while the negation of mercy is cruelty. Other major Blakean contraries are: heaven & hell, joy & woe, innocence & experience, liberty & society, convention & revolt, ecstasy & despair, and time & space. Putting these terms together we discover such poetic and mystical paradoxes as: conventional revolt, revolting conventionality, the ecstasy of despair, crying for joy, a liberal society, innocent experience, heaven in hell, and rational images.
In the card, Milton sits right foot forward, his right hand plucking the strings of a seashell lyre; he represents the spiritual sentiments, and his long hair signifies freedom of expression. The moon-white lily and golden sunflower beside him nod in concordance with the music, further affirming the idea of contraries. Amidst the stars of intellect, Newton's cropped curly hair suggests tidy self-control. In sum, Blake endorses the art of feeling, and the art of thinking. The presence of contraries intensifies any experience.
This card also depicts archetypal male and female symbols: the starry sky-father in the clouds communing with the floral and lyrical earth-mother below. Their partnership creates the essential unity of life. They represent all contraries within ourselves that need to recognize and respect each other. Instead of having to make a choice as in the other suits, here there is a healing of differences.
In the creative process, this is when the tension of contrary forces propels you into the imaginal realm to find solutions or new possibilities. Contraries need the presence of each other to elicit the fullest expression of both.
KEYWORDS: INTERPLAY OF CONTRARIES • ALLOWING FOR PARADOX • RESPECT AND COMPASSION FOR THE OTHER • OPPOSITES ATTRACT • EMOTIONAL FREEDOM AND PSYCHIC WISDOM • EMOTIONAL ISSUES OR CHOICES • PARTNERSHIP OR FRIENDSHIP • BALANCING THE MALE AND FEMALE • AFFINITY DESPITE DIFFERENCES •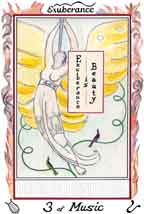 This card is a collage of two illustrations for Gray's poem, "Ode for Music." It depicts an ascending seraph with many-plumed wings, trumpeting a great musical riff upwards into the heavens. Represents the vitality and and joy of life, its upward movement suggests growth, especially of spiritual awareness. The seraph ('radiant, burning one') is the highest order of angel, one who sounds the music of the spheres (the rotating planets). Its celestial passion is evident in the color of its wings, complemented by the flames in the border. On its tunic we see dancing figures of energy like those in the 10 of Music. Below, two small birds on looping tendrils join in the song. Nature cooperates with spirit, forming an exuberant chorus. Angel, birds, and horn all symbolize transcendent communication. The two birds independently signify fellowship and friendship.
The word 'exuberance' itself means an abundance or overflowing (from 'udder', hence 'to be fertile', to gush with nourishment), and is akin to 'enthusiasm' ('filled with god'). In Blake's eyes, exuberance is beautiful because it is filled with spiritual nourishment. The emotion of exuberance is infectious because it has the ability to 'feed' others.
This card shows you blowing your own horn, and singing with joy. Everyone around you shares in the good feelings. You announce good news, and broadcast your enthusiasm for something. You are lifted by happiness, calling attention to the beauty or special qualities of something or someone. When this card turns up, there is often something special or wonderful that you don't want to miss. It may simply be your wake-up call to appreciate who and what's around you, and communicate how you feel.
In the creative process, this is when you get so excited about something that you can't hold your feelings back. This is a 'Eureka' experience that makes you blow your horn and sing your song. This is a time to 'pour it on'.
KEYWORDS: EXPANSIVENESS • CELEBRATION • ENTHUSIASM • LIVELINESS • SPIRITUAL GROWTH • MUTUAL FELLOWSHIP • SPIRITED COMMUNICATION • SHARING OF IDEALS • COMPROMISE • HEALING • GIVING THANKS •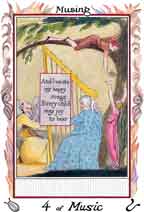 This card is a collage of two watercolors, and depicts an ancient bard playing his harp at a ceremony, while in the background a boy in a tree leans to hand down a nest to a girl below. The bard, a favorite figure of both Blake and Gray, represents the mythic poet-musician-prophet who speaks the truth (soothsays) about past and present, and can divine the future as well. (See Man of Music.) The scene in this card is similar to that illustrating Blake's poem from Songs of Innocence, "The Voice of the Ancient Bard," which shows a bard surrounded by young people as he sings: "Youth of delight come hither, and see the...image of truth new born." With powers indicated by his starry robe, the bard is an intermediary between the worlds of matter and imagination. His eyes are closed as he looks within and muses upon what he sees with his spiritual sight. In general, the bard signifies the passion of wisdom. As the window quotation states, this is Blake himself, conveying his musings in words and song to audiences old and young.
The background children are innocently involved in their own musings as well, with the young birds representing 'lines of communication' between them (the birds are called "captive linnets" — a species whose name derives from 'lines'.) There is a sense of relaxation and play, and shared feelings in this card, for the bard entertains his peers while the children. This can represent reflective nostalgia, or 'remembrance of things past' — a rich source for creative art.
In the creative process, this is when you relax into playfulness, whimsically experiment with improvisation, or reminiscence about past experiences. Such meditations alleviate stress and refresh the imagination. Make space for the gifts of spirit to move through you.
KEYWORDS: CONTEMPLATION OF HEART AND SOUL • IMAGINATION AT PLAY • PLEASURE COMBINED WITH PURPOSE • PASSIVE RECEPTIVITY • PLAYFUL OR FANCIFUL COMMUNICATION • RELAXING PURSUITS •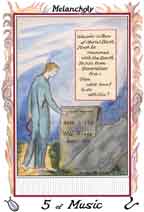 This card depicts the "unlettered Muse" of Gray's most famous poem, "Elegy Written in a Country Churchyard," standing amidst several tombstones. Her finger traces the letters of the words, DUST THOU ART, beneath which the inscription says, HERE LIETH WM BLAKE. As a spirit figure, the muse touching the gravestone signifies the possession of psychic powers. The tombstones generically symbolize the death of love, emotional loss, broken vows, or plans overturned. They can also signify one's own buried emotions. Gray's poem is a melancholy speculation on mortality and immortality; Blake's name upon the tomb is his own ironic gesture of empathy.
Melancholy ('black bile') is a deep and bitter emotional sadness, often produced by the contemplation or experience of death or extreme loss. In Blake's time, melancholy was widely believed to be the wellspring of inspiration, providing both the topic and motivation for much art. Although Blake himself at times went woefully "walking along the darken'd valley, with silent melancholy, he believed it to be "a disease which God keep you from & all good men." Sorrow or grief may result in creativity, but happiness and joy are preferable, by far. Ultimately, this card declares the necessity of transcending sadness: the muse's lyre itself connotes energy and life; and she leads with her right or spiritual foot.
In the quotation window, Blake tells us that the grave is the ultimate way to spiritual freedom. His last line, "Then what have I to do with thee?" echoes Jesus speaking to his mother at the marriage in Cana. This haunting question may be a repudiation of friendship, family, and the ties to life — a statement of existential melancholy; or it can be interpreted as a statement of spiritual necessity: no one can pursue the spiritual path without first forsaking the ties of the material world — which may include emotional ties, even this vegetable life itself.
This card is about being in low spirits, perhaps from a disappointment or loss. At worst it portrays an apathy or glumness that can be deadly to your creativity. The point is not to make it habitual, or better, to break free from it. Use these times to get in touch with your deepest feelings, to trace them to their source. By following your feelings into your depths, you may be able to free yourself from old pains and sorrows.
In the creative process, this is when you convert the pain of disappointment or loss into artistic expression. Or it may mean letting go of something old or dead, and moving on to something new and alive. Or the let-down or dissociation that follows intense effort.
KEYWORDS: SORROWS AND REGRETS • AWARENESS OF MORTALITY • SENSITIVITY TO PSYCHIC INFLUENCES • DISAPPOINTMENT IN LOVE • DEEP EMOTIONAL CONFLICT • REPRESSED (BURIED) EMOTIONS • SPIRITUAL MATURITY • NEED TO TRANSCEND AND MOVE ON •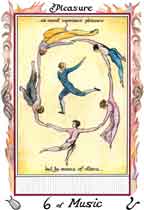 This card is a collage of two watercolors, a circle of dancers around a central figure. With six as the number of reciprocity and sharing, and Music as the suit of love and emotions, this card is immediately understandable in its simplicity and gracefulness. The card quotation confirms the social nature of human pleasure. In fact, the word 'pleasure' itself comes from a word root meaning 'mutual understanding', which clearly leads to mutual enjoyment. The central figure can also be seen as a leader receiving the support and backing of his followers. Or the performance artist responding to the enthusiasm of an audience. Or the individual who would be at a loss without his friends and family. In this sense, the card represents any network or support group that functions to assist and encourage the individual. All of these are examples of emotional sharing that bring deep satisfaction.
In a more general sense, this card also represents the larger community of society that brings us life's most pleasant experiences: our family and friends, neighbors and co-workers, our community, and by extension the entire community of mankind that makes it possible for us to function and enjoy life. This is the global dance of community.
When you get this card you are moving effortlessly with the natural flow of energies. Harmony is restored after the difficulties of 5 of Music. You freely give and receive. You may find yourself the center of attention or the fulcrum of a wheel that moves about you. Or you may be joining with others in such a way that your united energies can focus through one individual or cause. Like songs and games that feature call-and-response, a dynamic synthesis generates more movement and energy than just one factor alone. This card is also about the constellating of sympathetic or related characteristics.
In the creative process, this is when a variety of people or ingredients are brought together to produce an positive or elegant outcome, sometimes quite spontaneously. This happens when collective energies unite in exciting ways.
KEYWORDS: PLEASURABLE EXCHANGE • FILIAL AND FRIENDLY SUPPORT NETWORKS • GIVING AND RECEIVING GIFTS • HAPPY MEMORIES FROM THE PAST • BEING THE CENTER OF ATTENTION • RECEIVING SUPPORT ¥ POSITIVE CONNECTIONS ¥ SURROUNDED BY GOOD FEELINGS • HARMONIZATION OF ELEMENTS ¥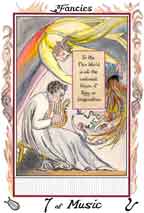 This shows a poet-musician playing his lyre while, riding a rainbow above him, his muse pours forth a cornucopia of gift-bearing sprites so as to inflame his creative passions. This illustrates the lines in Gray's poem, "The Progress of Poesy":
Hark, his hands the lyre explore!
Bright-eyed Fancy, hov'ring o'er,
Scatters from her pictur'd urn
Thoughts that breathe, and words that burn.
As the "fancies" fly before him, the poet-musician records them in music and poetry. The technical term for this is synesthesia: the ability to experience one sense through another. Once considered a form of madness, it can be seen as a special talent for perceiving directly the spirit world that lies beyond the physical senses. Pamela Colman Smith, artist of the Rider-Waite Tarot deck, who had the ability to see music, explained that her drawings were "thoughts loosened and set free by the spell of sound." She credited the "subconscious energy [that] lives in them all." Debussy described her drawings of his music as "dreams made visible."
The fancies demonstrate a variety of things that can inspire us: one releases a bird of hope, another holds out a locust of problems, a third offers snakes of wisdom in both hands (one emerging from an egg), while a fourth holds the laurel sprig of victory. The rainbow that bears "brighteyed Fancy" represents the mystical bridge between the worlds of matter and imagination; it is the artist's causeway.
For Blake, the world of fancy is reality, of which the so-called 'real' world of nature is but a reflection. The making of images in the mind, or "spiritual existences," is the process of imagination itself.
All forms are perfect in the poet's mind, but these are not abstracted nor compounded
from nature but are from imagination.
In the card, the fire spilling from the urn inflames your creativity, and the urn, decorated with laurels, signifies the prophetic and victorious nature of your work, or your mind. Fancy and all her little fancies are female, the anima or subconscious nature of the imagination. On the negative side, this card can represent delusions, self-deceptions, and inner confusion. Determine which fancies hold enough meaning and power to sustain your work, and make their expression your goal.
In the creative process, this is when you allow fantasy free reign. Your senses may crossfertilize (hearing colors, for instance). As in daydreams, visions take form and then dissipate, permitting you to rehearse future actions or try out seemingly impossible ideas.
KEYWORDS: IMAGINATIVE POSSIBILITIES • INSPIRATIONAL FANTASIES • INNER VISION • ALTERED STATES • SYNESTHESIA • DREAMS AND DAYDREAMS • EMOTIONAL DELUSIONS • EXPLOSIVE EXPRESSION OF FEELINGS • MENTAL CONFUSION • CHOICES OR INDECISION •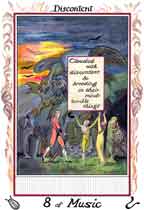 This watercolor is from Gray's poem, "Ode on a Distant Prospect of Eton College," illustrating the lines:
Alas, regardless of their doom,
The little victims play!
...Yet see, how all around them wait The ministers of human fate...
The vultures of the mind
These mental spectres are identified: at the left, with the snake of materialism wrapped around his arm, is jealousy. At his feet is gluttony as a rooting hog. Next at right is devilish avarice, clutching a running boy. Beneath is leonine pride or anger. At the extreme right, sobbing despair grasps a maiden with a doll. Above her ballthrowing companion is the serpent of flattery. Crowning all are the vultures of the mind, including one who reaches down to menace the boy with the cricket stick. These spectres are products of one's own discontent, and they prey upon the frivolous mind. They are transparent because to Blake they are created by ego and therefore unreal — quite different from the visions created by imagination, which are more real than anything in nature.
Blake believes such mental monsters are "the reasoning Spectre [that] stands between the vegetative man & his immortal imagination." They can and must be conquered:
Each man is in his Spectre's power
Untill the arrival of that hour,
When his Humanity awake
And cast his Spectre into the lake.
In the flames of the brightening sky, birds and eagles soar as emblems of hope and creative possibilities. As always in Blake, imagination is the key to personal freedom.
This is like being haunted by irrational fears, feelings of inadequacy, and low self-esteem. You are psychologically spooked or plagued by negativity. You may think that no one likes your work, or that there are hideous flaws in it. You may be trying to avoid an ugly scene, or cover up apprehensions or anger with a happy face. You need to re-evaluate your friendships.
In the creative process, this is when invisible demons of discontent make their presence felt, instigating psychodrama and clouding your judgement. On the other hand, the imagination rampant can produce 'monsters from the id.' Creativity is kin to lunacy, and sometimes you will be visited by bizarre ideas in your search for expression.
KEYWORDS: EMOTIONAL DISAPPOINTMENT OR DISSATISFACTION • ENERGY DRAIN • LOSS OF INNOCENCE • SELF-PITY • PLAGUED BY EMOTIONAL TORMENTS • EMOTIONAL OVERINDULGENCE • EMOTIONAL BREAKDOWN • SENSE OF THINGS OUT OF CONTROL •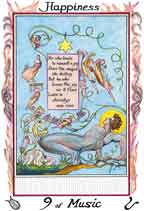 This is from an illustration to Gray's poem, "Ode on the Spring." Blake described it: "the purple year awaking from the roots of nature & the hours suckling their flowery infants." The waking 'year' is young man. Naked, he pushes himself up from the roots of nature, rising into Gray's "Cool Zephyrs" — who he sees as two bare-breasted women — "whisp'ring pleasure as they fly." His head is between us and the rising sun so that it forms a natural halo, signaling his spiritual grace. Around him the "rosybosom'd hours...disclose the long-expected flowers" (Gray's lines) as fairies extract babies from amidst the blossoms and then, nursing them, float heavenward.Two other fairies carry food and musical instruments. The man's ability to see such things of the spirit shows his heightened psychic perception. A cuckoo balances on a tendril above the Star of Venus, both symbols of springtime sexuality — of which the young man is quite aware. All in all, the aroused 'year' has every reason to be happy.
The window quotation is strongly related to the concept of time, like the illustration itself (which depicts the year and the hours), making the connection between time and happiness. The "winged life" of the hours is like "joy as it flies" — beautiful yet ephemeral. Nevertheless, happiness — like the flowers — is ever-renewing and always at hand. As Blake said, "Those who want happiness must stoop to find it; it is a flower that grows in every vale."
The sap is rising. You are blessed, and feeling your power. Today you are complete and whole, healthy in mind and spirit. You have done everything that needs doing. This is the card of direct, spontaneous love and happiness. You accept whatever Spirit and Nature has to bring you: today is a good day to die, or to live. In excess, you can become egotistical, gluttonous, and self-serving, with expectations that only you can provide happiness to those around you.
In the creative process, this is when you are at your creative best — fully present in the eternal moment, showered by gifts of spirit, improvising as you go, taking what comes without demanding more.
KEYWORDS: EMOTIONAL SATISFACTION & WELL-BEING • SENSUAL PLEASURES • UNCONDITIONAL LOVE • VISUALIZING WHAT YOU WANT • GOOD HEALTH • PSYCHIC POWERS • SENSUAL EXCESS • COMPLACENCY • SELF-INDULGENCE • SATIETY •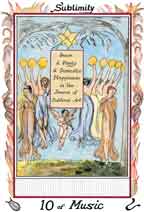 This card is from a design to Gray's poem, "The Progress of Poesy," and illustrates the lines:
O'er Idalia's velvet-green
The rosy-crowned loves are seen
On Cytherea's day
With antic Sports, and blue ey'd Pleasures
Frisking light in frolic measures:
Now pursuing, now retreating,
...To brisk notes in cadence beating
Decoding this passage and its illustration reveals a focus upon love and sexuality as the basis of the sublime. 'Idalia' was an ancient city on Cyprus famous for its temple of Aphrodite, the Greek goddess of love and beauty, called Venus by the Romans. Born from the waves near the small island of Cythera (her name means 'descendant of the foam'), she is sometimes called 'Cytherea'. Her 'day' is Friday, reserved for sexual fertility and marriage. Other signs of Aphrodite are the Star of Venus, and the figure of lusty Cupid-Eros, who was Aphrodite's son. The timbrels (hand-drums) being held aloft by the "loves" who are "in cadence beating" could also be the famed mirrors of Venus, which were made of copper — itself named after Aphrodite's isle of Cyprus. Aphrodite, a water goddess, was united to fire by marrying Hephaestus (Vulcan), the god of the forge. The male/female symbolism of the phallic flutes and round drums, is repeated in Cupid's bow and violin, which also symbolizes magical powers and earthly perfection. This portrayal of sublimity ('elevated state') is literalized by the fact that everyone is dancing on air.
The window quotation extends the meaning of this card by identifying it as the foundation of creativity. Emotional and sexual satisfaction are the wellsprings of perfection in art, according to Blake. The music and dance of the maidens is the product of joy, not melancholy, focusing on the divine energies of sex and love.
You may have a talent for bringing people together. In this card we see collaboration, a group choreography, individuals in step, or sharing a vision. Through eros (love), we come to a state of vibrational resonance. You may be involved in something of high spiritual, moral, or intellectual worth. Your noblest characteristics are coming out. Everything is working well together. This shows moments of shared exultation.
In the creative process, this is harmonic convergence — the synchronization of rhythmic systems into a single divine note. The combined instruments and energies of the project and its components oscillate into resonance, building one upon another into sublime spiritual eros.
KEYWORDS: THE DANCE OF LOVE AND LIFE • PERFECT EMOTIONAL SATISFACTION • COMPLETE GOOD FORTUNE • "AT HOME" WITH SELF AND OTHERS • DOMESTIC AND ARTISTIC BLISS • COLLABORATION AND TEAMWORK • DIVINE CHOREOGRAPHY • SOCIAL HARMONY • SEXUAL AND SPIRITUAL WHOLENESS • PSYCHIC MASTERY •
The central images used in the four Person Cards of the Suit of Music, like the ten Number Cards, are all from the Blake's watercolor designs to Poems by Mr. Gray. In each Person Card of the suit, as in each Number Card, the window contains a thematic quotation from Blake that emulates lyrics to music.
Angel of Music
(Air of Fire — Mind of Passion)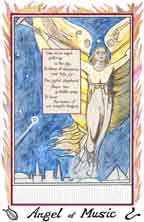 This image is from the title page of Gray's poem, "Ode for Music." As in 3 of Music, this angel is a seraph ('radiant one'), called "Fame." But here the seraph holds two trumpets, not one (because fame, according to Milton, has two mouths) — and descends instead of rises. Trumpets were anciently used to herald the new and full moons, associating this angel with the moon and the emotions. Trailing flames of compassion, the angel touches down into the world using the right or spiritual foot. Crowned by a single star of intellectual inspiration, its spiritual vision is directed upward to heaven. The domes and pyramids of London, which Blake associates with the Suit of Music, symbolize the city's materialism and commerce, while the spires and steeples represent its religion and arts. To men of all pursuits, the Angel of Music announces (for 'fame' means 'to speak') divine forgiveness for the evils of society, and brings the blessing of aesthetic sensibility. At its right, a star shoots upwards, signaling a crack in the firmament through which the angelic energies appear; it is also a sign of psychic abilities associated with this card.
In the window quotation, Blake tells of a sweetheart, who, "when she speaks, the voice of heaven I hear." Thus the "music of an angel's tongue" is the soft lullaby of love that creates "times of innocence and joy" despite the complexities and evils of civic life. The angel brings a cleansing freshness of possibility.
This card is the part of yourself or another that channels love for spiritual growth and awareness. Optimistic and open-hearted, you are able to overlook foibles and faults that others cannot, and you are blessed with friends and admirers. You are a voice of moderation and compassion, unafraid to announce your feelings or to step into the fray to defend others who are needy or disadvantaged. You bring a clear insight into confused or mixed situations, and may be psychically gifted. On the negative side, you are opportunistic and may resort to duplicity, speaking from both sides of your mouth. You are hot-tempered and sometimes act too quickly, lacking adequate grounding in the situation at hand.
The archangel Uriel can be associated with the Suit of Music, reputedly being the bringer of both alchemy and qabalah to mankind. Uriel ('fire from God') is the angel of salvation, and the fiery guardian of Eden's gates. Although Uriel is unrelated to the Angel of Music, they can both be regarded as emissaries of transformative energies.
In the creative process, this is when you feel an inrush of passionate excitement about what you are doing, when your heart sings with a vision of the imaginative possibilities that are appearing or coming down to you.
KEYWORDS: EMOTIONAL BREAKTHROUGH • COMPASSION • APPROACH OF SPIRITUAL GRACE • INCREASE OF AESTHETIC AWARENESS • LUNAR INSIGHTS. FORGIVING OF PERSONAL AND SOCIAL FAULTS • PSYCHIC POWERS • QUICK TO DISPLAY EMOTIONS • OPPORTUNISM. DUPLICITY •
Child of Music
(Earth of Fire — Spirit of Passion)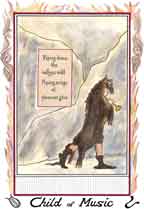 This card is from a design to Gray's poem, "The Progress of Poesy," illustrating the lines:
Where shaggy forms o'er ice-built mountains roam,
The Muse has broke the twilight gloom...
She deigns to hear the savage youth...
Th' unconquerable mind, and Freedom's holy flame.
The piping boy in leggings and wolf skins represents the primal feelings, outwardly wild and fierce, but inwardly innocent, tamed by love's lyrical power. The starkness of the 'ice-built mountains' and the primitiveness of the animal skin's 'shaggy form' emphasize the preciousness of the boy's humanity and the sweetness of his private tune — he is a 'sheep in wolf's clothing'. Obviously oblivious to his surroundings, he communes deeply with an inner muse. No matter how barren his environment, or how crude and unkempt his raiment, his songs are intuitive expressions of his feelings, and personal communications from his dreams and subconscious mind. Although he is emotionally independent and has a thick skin, he is inwardly vulnerable and moody. His willingness to take risks for love is part of his inherent valor. He strides forward confidently with his right or loving foot, and even the menacing persona on his back proceeds with its right paw first; thus the fearsome child is on the path of goodness. The emphasis on nature symbols in this card shows its relation to elemental earth as the source of primal feelings.
This is the part of yourself or another that plays on the most primitive of feelings. You are an empath proceeding alone into the psychic realm or into dreams. Emotionally vulnerable, you may be singing the blues, and turn away from human companionship. This can be your inner child whose trust has been betrayed, and retreats into insecurity or reclusiveness. You play-act with animal magnetism to see who will respond to your wild tune. This individual may become wrapped in fantasies and illusions of reality.
In the creative process, this when you explore the possibilities of improvisation, led by heart and soul. You fall in love with your own imagination.
KEYWORDS: SELF-COMMUNICATION • BEING TOUCH WITH ONE'S OWN FEELINGS • SHARING OF VISIONS AND DREAMS VIA CREATIVE EXPRESSION • DISGUISED EMOTIONAL VULNERABILITY • WILLINGNESS TO TAKE EMOTIONAL RISKS •
Woman of Music
(Water of Fire — Matter of Passion)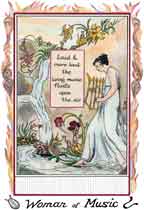 This card is from a design to GrayÕs poem, "The Progress of Poesy," illustrating the lines:
Awake, ®olian lyre, awake,
And give to rapture all thy trembling strings.
From Helicon's harmonious springs
A thousand rills their mazy progress take:
The laughing flowers, that round them blow,
Drink life and fragrance as they flow.
Mt. Helicon's anciently famous springs of Aganippe and Hippocrene (hippo=horse + krene=spring, because unearthed by the winged horse Pegasus), are the home of the Greek muses and thus the birthplace of music and poetry. Their waters inspired whoever drank them, and the fragrant flowers surrounding them were reputed to deprive snakes of their venom. Helicon was named after the goddess Helice, a virgin form of Hecate (see II—Mystery) whose name means 'willow' in Greek, for willows were planted by streams and their wands used for divination. This Grecian muse is Helice, and like her namesake willow, she merges with the stream — right foot forward to indicate her spiritual qualities. The 'trembling strings' of her lyre (from ®olus, the wind-god) are the song of the wind in her branches. The humanized flowers along the rills of the stream all drink and toast the inspirational waters, a metaphor for Gray's "rich stream of music."
The muse or Woman of Music is here associated with fire (in the border), air (the ®olian wind), water (the springs), and with earth (the living flowers). She is the Enchantress who channels and integrates energy, thoughts, feelings, and spirit. Her "living music" is "loud" and clear. Compare this card image with the Queen of Cups in the traditional Tarot.
This is the part of yourself or another who listens to the inner chords for life's ecstatic moments. You seek pleasure and tranquility, are naturally graceful and gentle, and enjoy all the senses. This person excels at 'diffuse consciousness' — an instinct for taking everything in without focusing on anything in particular. She may be very psychic, and easily reflects other people's feelings and projections. In the face of harsh realities, she may escape into solitude, addictions, or anodynes. Loving life, she is likely to vigorously laugh with joy, or unashamedly wail with sorrow.
In the creative process, this is when you vibrate in tune with everything around you, sensitively aware of life energy in all its forms, from which you create something new through the filter of your own consciousness.
KEYWORDS: EMOTIONAL DEPTH • FLOWING PSYCHIC SKILLS • SOURCE OF INSPIRATION TO OTHERS • ENCHANTING PERSONAL MANNER • MULTIPLE AFFINITIES AND TALENTS •
Man of Music
(Fire of Fire — Passion of Feelings)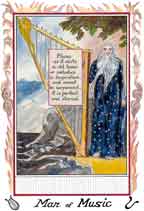 This card is from the title design to Gray's poem, "The Bard," but could illustrate Blake's own lines from his Songs of Experience:
Hear the voice of the bard!
Who present, past, & future sees
Whose ears have heard,
The holy word,
That walkÕd among the ancient trees.
Bards were Celtic minstrels who acted as heralds, and sang heroic odes at celebrations and festivals. The Man of Music is such a bard, a wise counselor and gifted visionary. His hoary beard and advanced age signify his emotional control and vast experience. A good term for him is wizard ('wise one'), a member of the magical establishment. He stands next to the sea of time & space (the material world) and beneath the branches of the "ancient trees" where walked the "holy word" — hence, he mediates between the worlds of matter and spirit; he is a shaman (medium) who sings the sagas of the soul. His mystical authority is asserted by his starry magician's robe, and, crowning his golden harp, by an angelic muse, which itself holds another, miniature harp. The bard's imagination roams freely between the mundane and the sacred, between fantasy and reality, between the past and the future.
Blake's window quotation states that imagination is ageless — artists and poets of old created perfect works, as will those of the future. Bardic inspiration is not supplanted by our own; nor will our realized visions be devalued by those of artists yet to come.
This is the part of yourself or another who is a spokesperson for the soul, interpreting the pregnant sounds and deep currents of life. You show maturity of emotion with a real concern for others. You are wonderfully imaginative but need an audience to appreciate you. This individual is old-fashioned, and devoted to tradition. In the extreme, he may be an idealist out of touch with reality, or live in a fantasy world of self-delusion. His sensitivity may lead to drowning his feelings in addiction or neurosis.
In the creative process, this is when you offer yourself as a servant of the life force, dedicating yourself to what you love, to helping others, or creating something beautiful.
KEYWORDS: EMOTIONAL CONTROL AND SELF-DISCIPLINE • MEDIUMSHIP • SHAMANISM • WIZARDRY • WISE COUNSEL • SOULFUL EXPRESSION • CREATIVE MASTERY • LIVING IN FANTASY • SELF-DELUSION •